No Fee Promise - A True Contingency Fee
Free Accident Case Consultation, We Promise
Virtually all persona injury law firms advertise their legal services on a contingency fee. A true contingency fee allows the client to pay their attorney nothing up front, and only pay if the case is successful.  When you decide to hire a lawyer for an accident injury case, you will in all likelihood agree to pay your attorney on a contingency fee.
Napolin takes cases on a true contingency fee, with an additional promise. Napolin's No Fee Promise means that Napolin promises to never require his clients to come out of pocket. Under his promise, all attorney fees and costs are forgiven if the case is not successful. By standing by his promise, Napolin reaffirms his commitment to the financial well-being of his clients.
Hurt At Work? On a Motorcycle or in a Car Crash?
Injuries happen. When they do, they cause financial harm in the form of medical bills and missed time from work. Injuries also result general damages in the form of pain and suffering. When these types of hardships arise, injury victims turn to professional attorneys for help. Unfortunately, those who fall on hard times due to accident injury are not able to afford professional legal services out of pocket. However, the law allows for affordable legal services in the form of alternative contingency attorney fee arrangements. Napolin offers true contingency fee billing arrangements and goes a step further with his No Fee Promise.
California Accident Injury Lawyer No Fee Promise
When you are given the California Accident Injury Lawyer No Fee Promise, you receive a guarantee that you owe nothing unless money is successfully recovered on your behalf. You also receive assurance that Napolin will not ask for any money up-front to prosecute your personal injury claim.
Many cases qualify for the financial protection of our No Fee Promise. Our accident injury law firm office is standing by to accept your call for help. If you are hurt and need to speak with a professional, we are here to evaluate your accident injury case. Dial 866-NAPOLIN to get started.
My No Fee Promise is a True Contingency Fee. It means you pay no fees or costs unless money is successfully recovered on your behalf. - Attorney Alexander Napolin
California Accident Injury Lawyer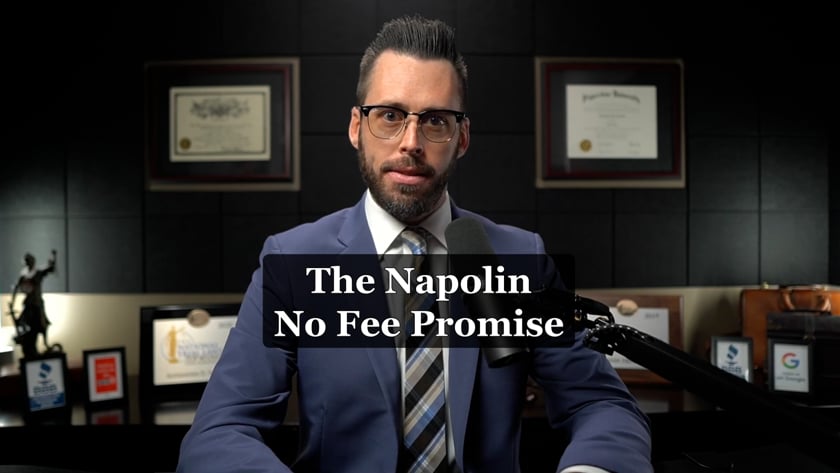 Schedule Your Free Consultation
Submit Your Information
keyboard_arrow_leftPrevious
Nextkeyboard_arrow_right
Read More About Hiring A Work Injury Lawyer
to help you win your insurance claim!