California's Best Accident Injury Lawyer
Extensive Experience with Auto Accidents; Personal Injury; Workers' Compensation; and Wrongful Death Claims.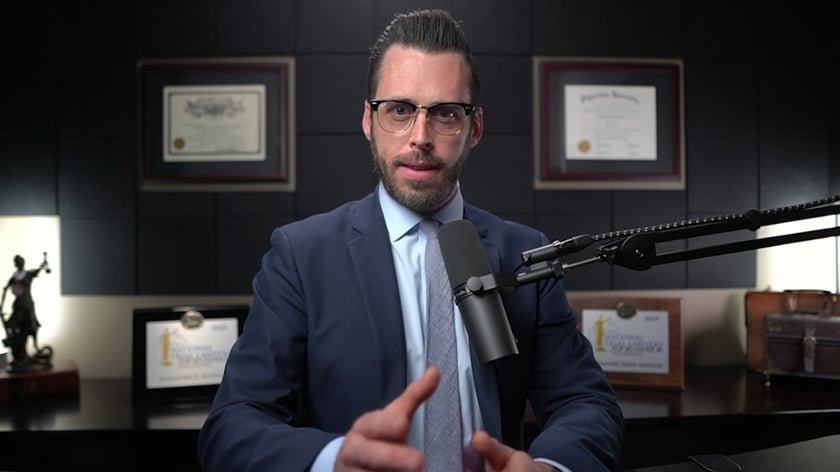 I promise that you will not pay any California injury attorney fees or costs unless your case is a success. No hidden fees, no hidden terms, I promise. - Alexander Napolin Esquire
Napolin Accident Injury Lawyer
Open Letter By Alexander Napolin Esquire
If you are hurt in an accident, you need to speak with the best California accident injury lawyer. The insurance company of the person who hurt you is not on your side. Do not listen to the advice of the insurance adjuster.
Top Accident Injury Attorney in California.
I am a top personal injury lawyer who asserts claims against the insurance companies using proven methodology. My approach when prosecuting accident injury claims results in successful outcomes for my clients. When you hire my law firm, you acquire an energetic and diverse legal team dedicated to your success.
Why Choose Napolin Accident Injury Lawyer
Choosing an accident injury law firm with a reputation of success is important. I have a track record of success. However, many firms boast that their years in practice and past trial wins make them your best attorney choice. Nothing could be further from the truth.
A law firm's length of existence and success on past cases will not determine the success of your case. In fact, many other factors will determine whether your case is successful or not. Case success means that a case is evaluated correctly, and then timely prosecuted in a way that improves the client's overall well-being. That's why my firm puts the focus on you and not on how much we have collected for others.
Since opening our doors in 2011, I have developed into a well-rounded California accident injury lawsuit law firm. My reputation as quality Ca. personal injury lawyers is not measured solely by the amount of money collected for my clients before you. Instead, it is best measured by the success stories that my clients experience when I apply my unique philosophy and method to their case. I have developed a great formula of success with client-attorney relationships that make each and every case a success. And, with a track record of success on literally thousands of accident injury cases, you know that you have chosen the very best to help you through difficult times.
Learn How I Can Help. Call Me.
If you would like to learn how we can help, your next step is to call our California law office. All calls are free and strictly confidential, so there is no risk to you.
Our client-focused legal team is ready to provide answers to all of your questions. Call 1-866-NAPOLIN to receive your free and confidential legal case consultation.
Napolin is a 100% plaintiff-side personal injury lawyer. This means that he never defends any insurance companies.
Napolin is a born native of Orange County. He graduated Troy High School and completed California State University, Fullerton in 2008 when he received two B.A. degrees, in American Studies and Business Administration. He earned his law degree from Pepperdine University School of Law in Malibu, California.
Napolin's notable cases include Sanchez v. Children's Dental Group and Spencer v. Stephen Paddock; MGM Resorts. He is currently working alongside the best trial attorneys on various cases involving catastrophic personal injury and wrongful death.
Napolin is dedicated to helping people with injuries of all magnitudes. If you are injured and need help, then you should submit your case for review with Napolin APC, Mr. Napolin's professional corporation.
Read what clients have to say

about Our Law Practice

I would like to start of by thanking Alexander and his entire staff for handling my case in a very professional manner. All of my calls were returned, I received good communication, and I had access to speak with a lawyer. Thankfully now all of my bills are covered and I have plenty left over to get back on my feet. I could not have made a better choice when I chose you to help me. I would definitely recommend Alexander and his team to all my friends, family, and anybody out there in need of a law firm that really knows how to take care of their clients.

Reviewer:

Roman Pascual
out of 5 stars
Read more reviews on Avvo
My Case Results Are Meaningful To Me, But My Greatest Achievement Is The Overall Positive Impact My Work Has On The Life Of Each Of My Clients. Remember, Past Case Results Are Not A Guarantee Of Success On Your Case.

- Alexander Napolin Esquire
✅ Notable Settlements And Judgments
California Workers Compensation History California Workers Compensation System Development – The laws that comprise California's current workers' compensation system developed over time. The origins of the system trace back to the industrial revolution in the late 19th century. In addition, as mass production and factories increased, many workers fell victims to employers' disinclination to take responsibility in…
Read More...
Contingency Fee Practice Areas:
Types include: Car Accident, Work Accident, Workers' Compensation, Dog Bite, Work Injury, Motorcycle Crash, Uber Accident, Traffic Collision, Lyft Crash, Head-on-Collision, Rear-End Collision, Slip and Fall, Wrongful Death Claims.
Personal Injury Law Basics
Best Personal Injury Law Information In California
Personal injury law covers a variety of situations where harm is caused to an individual through the wrongful conduct of another. Some common types includes: Premises Liability (Slip & Fall); Negligence (Automobile Collision); Strict Liability (Dog Bite); Intentional Tort (Assault & Battery). The definition of personal injury law is very broad. It includes any situation where the actions of a person harm another person in a foreseeable manner. Personal injury law, or tort law to lawyers, also covers the remedies available to the injury victim. The word "tort" is a Latin term meaning "twist, improper, or harm." The most common remedy is money damages awarded by a jury after a civil trial. The person who causes the harm is known as the "tortfeasor" and the person sustaining the harm is often referred to as the victim, plaintiff, or claimant. Need help knowing if you have a case or not under personal injury law? You need to get personal injury legal advice from an accident injury attorney like Napolin.
Personal Injury Law More Specifically Defined
A personal injury lawsuit is brought by private lawyers in civil court. Criminal charges are charged by lawyers who work for the government. While both could be brought simultaneously for the same conduct, each is a distinct case with different procedures. A civil court case brought by a private lawyer seeks money damages for the victim's injuries. A criminal court case seeks incarceration and/or restitution against the defendant. Both cases focus on the conduct of the defendant, but the civil case seeks money damages for the victim instead of punishment for the perpetrator. You can hire a lawyer to bring a civil case even if the government is not pursuing criminal charges against the person who injured you.
Money damages can be awarded by a jury to cover a wide variety of injuries so long as they are the foreseeable consequence of the defendant's actions. These include emotional, physical, psychological and financial. Under personal injury law, the injury victim must prove that it is more likely than not that their version of events is true. And that those events violated the law, requiring the defendant to pay the plaintiff for the consequences of the defendant's actions. Money damages recovered may be related to medical expenses, long term health care, loss of employment, loss of earning capacity, lost wages, damaged or destroyed property. Furthermore, there's also financial recovery with regard to non-economic injuries. For example, suffering, pain, psychological pain, inconvenience, diminished happiness of daily life, as well as stress and anxiety.
Hiring Attorneys For Your Personal Injury
Have you been injured by the neglect of another through no fault of your own? If so, you will need an experienced accident injuries lawyer to help you navigate the process and advocate for you in a court of law if necessary. You should contact an attorney immediately for advice before speaking to your insurance company or to the other driver's insurance company about the details of the accident or the extent of your injuries. If the other insurance company or your insurance company contacts you offering to fix your automobile, go ahead and allow them to inspect your vehicle. But don't be fooled into sharing information with insurance companies about your injuries or the specifics of the accident until speaking with an attorney. Why? Because the main goal of the insurance company is to discount your injuries and use your statements out of context to deny your claim and pay you as little money as possible. By hiring an attorney, you will have the benefit of putting up a barrier between you and the insurance company so that you can build the strongest case possible. Remember, personal injury law is all about money damages. And a stronger case means a higher settlement.
An attorney can help you find the appropriate doctor to treat you for your injuries, usually on a lien basis so private health insurance is not even required. A reputable accident attorney will also help collect appropriate evidence including medical evidence to prepare for the litigation phase of the case. This is why getting a lawyer early on in the fact gathering and investigation phase. Failing to properly collect evidence and document bodily harm can significantly devalue a claim. In addition, a good lawyer will provide you with advice from the insight they have obtained from their experience working on other cases that you will need in order to make the best decisions throughout the legal process.
Take The Next Step On Your Road to A Successful Injury Recovery...Dial 866-NAPOLIN
If you have questions about a personal injury, work injury or auto accident injury, do not hesitate to take the next step to finding answers today.
A good way to find out more is through our free case consultation program. Call to see if we can help. All calls are confidential and completely free.