San Bernardino's Best Accident Injury Lawyer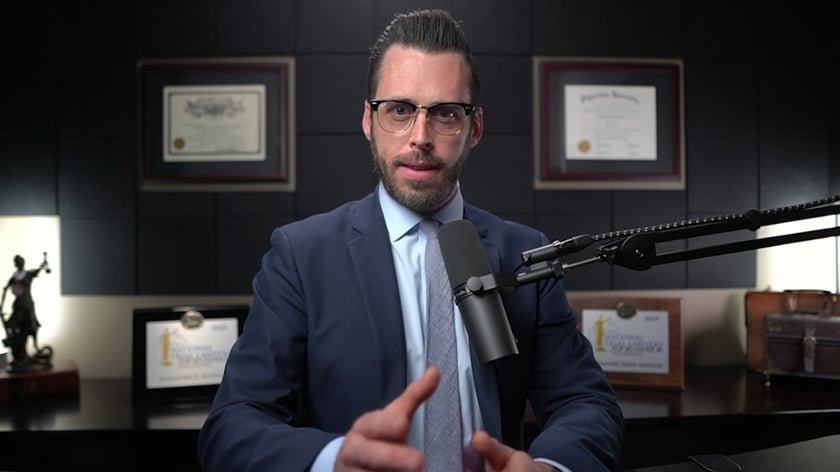 I promise that you will not pay any California injury attorney fees or costs unless your case is a success. No hidden fees, no hidden terms, I promise. - Alexander Napolin Esquire
Napolin is a 100% plaintiff-side personal injury lawyer. This means that he never defends any insurance companies.
Napolin is a born native of Orange County. He graduated Troy High School and completed California State University, Fullerton in 2008 when he received two B.A. degrees, in American Studies and Business Administration. He earned his law degree from Pepperdine University School of Law in Malibu, California.
Napolin's notable cases include Sanchez v. Children's Dental Group and Spencer v. Stephen Paddock; MGM Resorts. He is currently working alongside the best trial attorneys on various cases involving catastrophic personal injury and wrongful death.
Napolin is dedicated to helping people with injuries of all magnitudes. If you are injured and need help, then you should submit your case for review.
Personal Injury Car Accident Help From A Redlands California Lawyer Redlands California trial lawyer Alexander D. Napolin represents those who have suffered personal injury in car accidents. His office is conveniently located in Ontario California near the Haven exit to the 10 Freeway. If you or a loved one has suffered personal injury in a nearby…
Read More...
Schedule Your Risk-Free Legal Consultation Today!
Submit Your Information
keyboard_arrow_leftPrevious
Nextkeyboard_arrow_right
San Bernardino's Premier Auto Accident Personal Injury Lawyer
San Bernardino California Law Firm With Powerful Personal Injury Law Experience
Inland Empire, Riverside, San Bernardino Personal Injury, Car Accident, Workers' Compensation Lawyers
Our objective is to obtain the best legal results and to advise clients on the best and most effective decisions. When hired, we endeavor to solve your problems for you so that you can focus on injury recovery and the important things in life. Of the most essential points in life are health, family and finances. At Napolin Law, the aim is to furnish you with the needed legal devices to safeguard your health, family and financial resources after an injury, car accident, personal injury or workplace accident.
It is a challenge to navigate the legal system, particularly when you are hurt. That's where we come in. We battle to ensure that the client has a complete understanding of their legal rights and then we pursue them to the fullest extent on their behalf.
Making the Decision on a Law Firm in San Bernardino Ca.
Choosing the right firm for an accident injury case can be difficult. The law firm selected will in all likelihood determine the future state of the victim's health and finances after a serious accident injury. That's why Napolin Law takes the unique approach of offering a free discussion with a personal injury attorney to discuss the issues and to offer relevant advice and answers, before being hired. Our lawyers are thoughtful and sensitive clinicians of law, offering wisdom towards the client's problems. Let us assist you through this time by offering you the tool of the law to get you through it. If you have questions, we have answers. Reach us today for a real conversation about what can be done to win your possible lawsuit.
Napolin Law, situated locally to San Bernardno, Ca., brings expertise to clients in the Inland Empire. If you are hurt and looking for a team who cares, we would love to speak with you. Our San Bernardino County law Team (featured below) is ready willing and able to help with auto accidents, work injuries, dog bites, train accidents, motorcycle crashes, personal injuries, wrongful deaths, mass injuries, and more. Our area of injury knowledge extends to workers compensation.
Hire the San Bernardino Injury law office attorneys at Napolin Law.
At Napolin Accident Injury Lawyer, we give complete attorney representation for car accidents, injury accidents, workers' compensation, motorcycle accidents, truck accidents, freeway collisions, job injuries, slip and falls, as well as personal injury legal claims. We will always provide you with a specific cost so you will know upfront what you will be paying for our legal services.
It is vital that you quickly look for the insight as well as counsel of a well-informed and knowledgeable San Bernardino Ca. law attorney who will help you handle the insurance company and other parties.
The San Bernardino Ca. Injury Law Firm Attorneys at Napolin Law.
Consulting with the San Bernardino California law office Attorneys after an injury accident has great benefits. Your first consultation will certainly not cost you anything. You will be offered professional legal counsel regarding your injury claim and also exactly what damages you might be entitled to be recompensed for. You will have the ability to ask questions as well as be provided solutions that you can count on. The San Bernardino car accident law firm attorneys at Napolin accident injury lawyer have actually assisted many people in the same situations and circumstances as you. We have your best interests in mind as well as the experience and confidence to successfully guide and direct your case through the many steps of a demanding court case lawsuit. Contact our Law Offices today. 1-866-NAPOLIN