Costa Mesa's Best Accident Injury Lawyer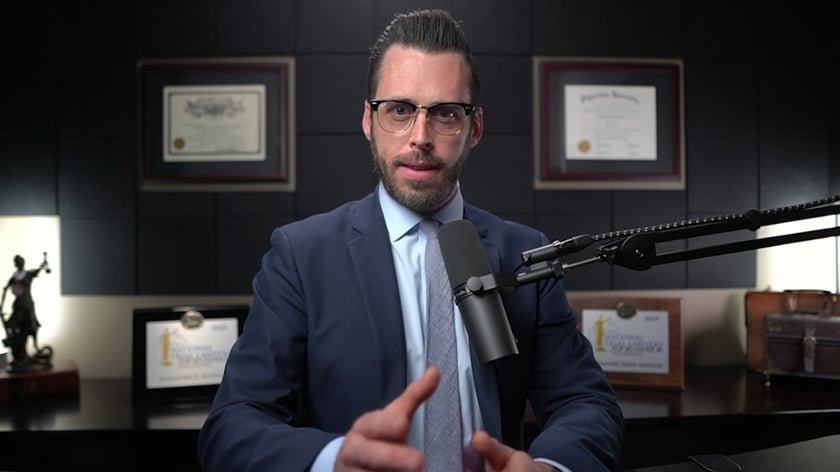 I promise that you will not pay any California injury attorney fees or costs unless your case is a success. No hidden fees, no hidden terms, I promise. - Alexander Napolin Esquire
Napolin is a 100% plaintiff-side personal injury lawyer. This means that he never defends any insurance companies.
Napolin is a born native of Orange County. He graduated Troy High School and completed California State University, Fullerton in 2008 when he received two B.A. degrees, in American Studies and Business Administration. He earned his law degree from Pepperdine University School of Law in Malibu, California.
Napolin's notable cases include Sanchez v. Children's Dental Group and Spencer v. Stephen Paddock; MGM Resorts. He is currently working alongside the best trial attorneys on various cases involving catastrophic personal injury and wrongful death.
Napolin is dedicated to helping people with injuries of all magnitudes in Costa Mesa. If you are injured and need help, then you should submit your case for review.
Read what clients have to say

about Our Law Practice

I would like to start of by thanking Alexander and his entire staff for handling my case in a very professional manner. All of my calls were returned, I received good communication, and I had access to speak with a lawyer. Thankfully now all of my bills are covered and I have plenty left over to get back on my feet. I could not have made a better choice when I chose you to help me. I would definitely recommend Alexander and his team to all my friends, family, and anybody out there in need of a law firm that really knows how to take care of their clients.

Reviewer:

Roman Pascual
out of 5 stars
Read more reviews on Avvo
My Case Results Are Meaningful To Me, But My Greatest Achievement Is The Overall Positive Impact My Work Has On The Life Of Each Of My Clients. Remember, Past Case Results Are Not A Guarantee Of Success On Your Case.

- Alexander Napolin Esquire
✅ Notable Settlements And Judgments
Have you been involved in a Roadway, Highway, Freeway crash, Call a Costa Mesa California Auto Accident Lawyer today? 5 freeway, 22 freeway, 55 freeway, 57 freeway, 405 freeway accidents happen every day – Get Costa Mesa California Auto Accident Lawyer help  – Costa Mesa California Auto Accident Lawyer – Looking for a Costa Mesa…
Read More...
Schedule Your Risk-Free Legal Consultation Today!
keyboard_arrow_leftPrevious
Nextkeyboard_arrow_right
Costa Mesa Wrongful Death Claims Attorneys
Seek Legal Remedies in Times of Grief - Facing the wrongful death of a family member is beyond difficult. Grieving is a process and it takes many forms. Beyond grief, the loss of a loved one can leave a family with a significant financial burden. The burden includes funeral costs and loss of support. It may also include the emotional suffering of not having a loved one alive. Some people pass away with the ability to continue to support their family, but many do not. This leaves close loved family members with serious and significant financial issues.
In some instances, family members may have the legal right to collect money. In instances where a person's killing is negligent, California laws exist to help cover the financial burdens and hardship created from their loss. If you have lost a loved one, you need to learn your rights to protect your future. Should negligence be suspected, a Costa Mesa attorney should be consulted.
Consulting With CA Wrongful Death Attorneys
Many delay in pursuing their rights from inaction created from feelings of grief. However, it is important to talk to knowledgeable personal injury attorneys if negligence is involved. A delay investigating the facts surrounding the accident could result in unanswerable questions needed to prove the case. An attorney can initiate an immediate investigation. Attorneys with experience in the field of personal injury also provide valuable wisdom, guidance, and support during their client's grieving process. Here are a few things an attorney often helps with during a claim:
Securing a loan from a reputable company to cover costs while litigation is pending;
Deal with estate matters of the decedent, including probate, trust administration, and contest;
Advise family members problem-solve difficult issues that they face resulting from the loss of a loved one;
Investigate the occurrences surrounding the cause fatality;
Investigate insurance policy availability and claim on the policy;
Prosecute a lawsuit to the fullest extent possible to maximize value and needed compensation.
Failing to hire the help of a lawyer early on in a case means that you are missing out on the above valuable resources. It is therefore imperative to contact a reputable law firm as soon as possible. Much may still be recovered even if there has been a delay, so act as soon as possible to protect your legal rights.
Wrong Death Cause of Action Basics
Wrongful death lawsuits exist where a person is killed due to the negligence of someone else. Many times, money may even be available via a claim on the negligent person's homeowner or car insurance policy. Insurance money may step in and pay even where the tortfeasor does not have the ability to pay a lawsuit.
A claim comes about after someone is killed due to the fault of another person or entity (company or manufacturer). This type of lawsuit is fairly new, within the last century federal and municipal courts have created the right to bring about litigation. Every state in the country now has a law that applies to this type of case. Such claims may include all types of deadly accidents, the most common being: car accident, truck crash, and bus collisions. The at-fault party may be found guilty for acting negligently and for acting intentionally or accidentally.
Three Types of CA Legal Damages Available
Depending on the state, the damages available in such a lawsuit may vary greatly.  In some states there may be a limit on the amount and type of damages that one may claim, also called a "cap".  This occurred especially when dealing with lawsuits involving medical malpractice.
Survivors may seek compensation for Economic Damages, which includes the lost financial contributions that would have been made by the deceased to the survivors.
Although less palpable, survivors may seek compensation for Non-Economic Damages, which includes claims of pain and suffering, lost companionship, loss of medical coverage/pension, and loss of protection and/or guidance.
Punitive Damages are awarded as punishment and discipline for the especially bad behavior of the defendant. In many states punitive damages are unavailable in cases and are inapplicable to specific defendants, government agencies for example.
May Maintain A Lawsuit or Insurance Claim
A claim must be filed on behalf of the person(s) who has suffered damages due to the death of the victim. The people who have suffered damages are called the "real parties in interest".  "Real parties in interest" may include:
Immediate family - Members include husbands, wives, children, and parents of unmarried children.  In all states, immediate family members can recover in

wrongful

death

lawsuits.
Life partners/financial dependents - In many states, a person who is a life/domestic partner or who is a financial dependent of the victim may have a right to recovery.
Extended family - In some states, more distant relatives of the victim can bring about a

wrongful

death

claim.  For example, if a victim happens to be a child who was being raised by their grandparents, the grandparents may have a right to recovery.
Anyone that suffers financially - In some states allow for any and all persons who have suffered financially due to the

death

of the victim may bring about a lawsuit, even if they are not married or a relative to the deceased.
Who May Be Liable for Negligent Killing
A claim for wrongful death can be brought against a large array of persons, companies, and businesses, as well as government agencies.  For example, if a deadly automobile accident occurs that involves a drunk driver, the cause of action can be brought against the driver under the influence based on their intentional act of driving drunk.  If a person experiences a fatal slip and fall within a grocery store, that company may be held liable for the incident due to the negligence of the store.